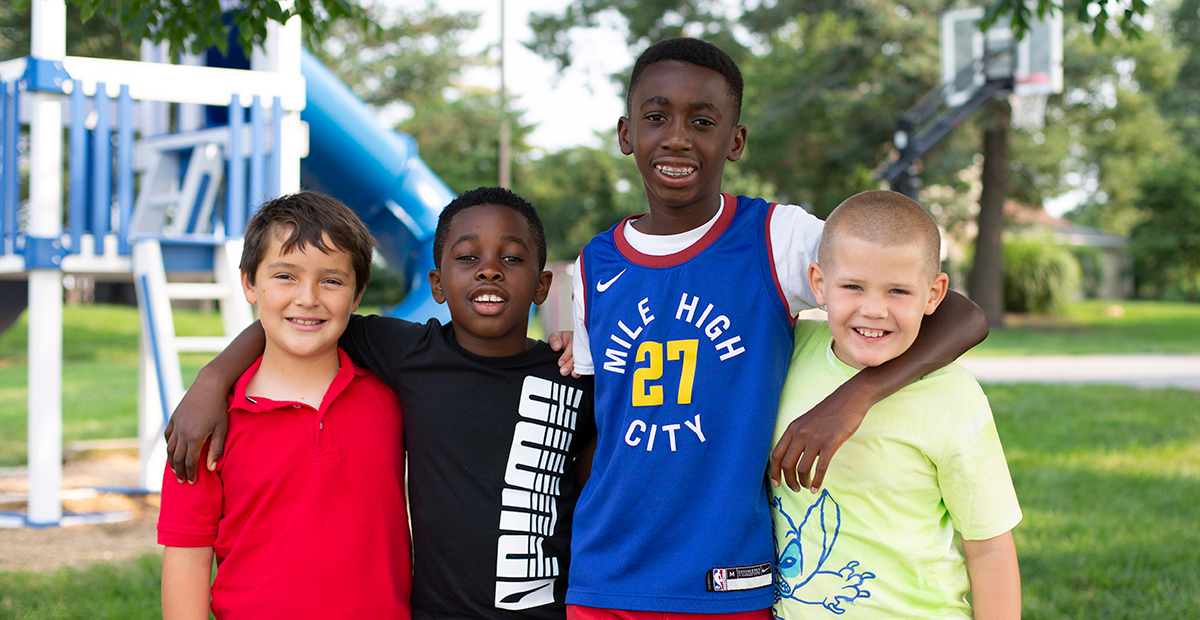 Children, ages 6 – 18, find a unique opportunity to grow and succeed through the supportive homelike environment at the Masonic Children's Home. Within five cottages, 40 youth have the chance to receive friendship, care and guidance. As they mature, we provide the resources to prepare them to live on their own.
We give special attention to children's health care needs. Children receive regular dental and physical checkups with local providers and, as needed, may visit the physicians, dentists, ophthalmologists, physical therapists, dermatologists and nurses on staff on campus. We also make referrals to outside facilities, if necessary, so children receive the best care possible.
Youth may stay at the children's home throughout their school years. They attend the Elizabethtown Area School District, programs conducted by Intermediate Unit 13 and the Lancaster County Career and Technology Center. We expect students to study each day. If a child needs additional help, certified teachers and college students provide tutoring on campus. Upon graduation, youth receive financial support through the Masonic Charities and the Masonic Homes/Patton School Alumni Association to attain higher education if they choose to do so.
Children are encouraged to pursue their own interests and goals. Through the local recreation center and school sports programs, children can choose to participate in a variety of activities. Our campus has basketball and tennis courts, a playground and play areas, a picnic area and fire pit, swimming pools and bike paths. Youth who are interested in art, music, dance and other hobbies may take private lessons. We also organize group trips to enjoy picnics, sports games, amusement parks and vacations. Children may participate in the religious worship of their choice.
Families are important to us. When appropriate, we welcome siblings to move onto our campus together, and invite parent/guardian visitations.
Generous contributions fund the children's home, so parents/guardians do not have to pay for their children to live here. The MCH does not receive government funding; all costs are paid through selfless donors.
For children growing up in an unstable environment, finding a secure home with love, support and guidance is life-changing. Since 1913, Pennsylvania Freemasons have provided a safe haven and changed the lives of more than 2,100 children at the Masonic Children's Home in Elizabethtown.
After establishing what is now the Masonic Village at Elizabethtown in 1910, Pennsylvania Freemasons became aware of another need in the community. They felt an unavoidable duty to provide for the maintenance, development and education of orphaned children. The board of directors' original vision was to provide for children and their widowed parent. On Nov. 12, 1913, Edith H. De Vore, widow of Bro. William H. De Vore, Bellevue Lodge No. 530, now Avalon Lodge No. 657, Pittsburgh, and her four children moved to the Masonic Homes. Today, the children's home cares for up to 40 school-age children.
2013 was filled with celebration and appreciation for everyone who has been a part of the Masonic Children's Home over the last century. To see pictures from the centennial events, like us on Facebook.
Amenities Include:
Attractive, homelike environment
Spacious bedrooms
Nutritious home-cooked meals
Clothing
Skilled child care
Complete medical care
Social worker on staff
Academic tutoring
Resources to pursue hobbies
Organized sports and activities
Annual vacations and trips
Opportunity for higher education
Independent living program